To All The Strong Single Moms This Mother's Day
Mother's Day is here again and for us single moms, the day can be bittersweet. All around mothers are honored and celebrated for our roles in our children's lives. For all the days we found ourselves stretched thin, overworked and stressed.
Depending on who's in your corner, this year or the next, you may never receive recognition for all your efforts. And that may leave you feeling a bit sad, especially if this is your first year as a single mom.

On this day, some moms are recognized by their spouse or a family member. Or your co-parenting situation is less than stellar, so you don't expect much from him. That aspect may get you down, however, the only validation you need is the growth and success of your children.
You'll hear the Mother's Day isn't for single moms or that we are the forgotten. That you need a mate to validate your worth as a mother. You'll hear how awkward it is because we don't wake up to flowers and gifts from our husbands. That Mother's Day is not for you and only for married moms.
Believe it or not, you deserve to be celebrated as much as a married mom.
While you won't receive flowers or candy from a spouse, your children return how with some special little gifts. Use this day to ditch the mom guilt you horde and buy a gift for yourself. Or spend the day doing things that bring you happiness.
Consider all the lessons you've taught your children. Nights putting together school projects or helping out with homework with the material you've long forgotten. Consider all the days you've had to call into work to take a sick day and take care of your little ones.
RELATED POST
How to Single Moms Can Achieve Work-life Balance
The Best Advice for the Exhausted Single Mom
Easy Time Management Tips That Single Moms Absolutely Crave

The traveling for football/baseball/soccer games and cheerleading competitions. The birthday parties you all but broke your neck to make perfect. All of that is what makes you a mother, and you deserve to celebrate and be celebrated too!

Children are quite perceptive. They watch us closely and absorb the world around them without words. When you are hateful and bitter about life, they get a dose of that too.
Considering all that you do take a moment to mull over all that you have accomplished on your own. Think about how much you've grown, or if this is the beginning of your single motherhood journey; how much you will grow.
There will always be moments of doubt, worry, doom and gloom. But by focusing on the positive, you can find strength when you need it.
Most days you probably won't feel like a hero while trying to get through the day. Keep in mind, that your children are constantly watching you. They see how you handle adversity and stress. They hear your views on life.
Going forward, consider how to continue to improve your approach on life to further inspire your children. While it may go unspoken, you know you're quite a bad ass. Keep going, let go of the anger, the resentment, and push towards the positive.
Let us know in the comments how your journey through single motherhood has shaped you.
Happy Mother's Day!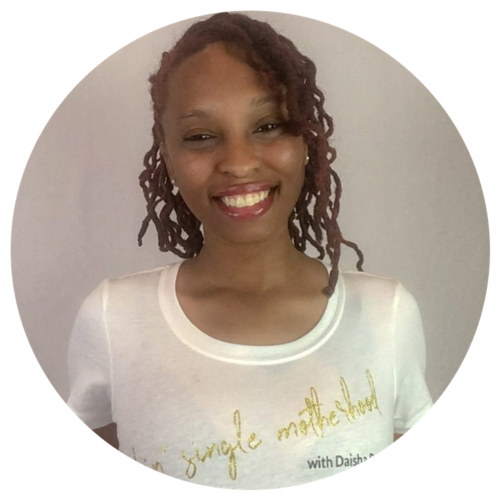 I'm Daisha Renee; single mama, foodie, and lover of yoga. Here on the blog, I love providing powerful solutions for overwhelmed single moms who struggle with balancing all the components of single motherhood.